Features:
0.4mm iridium center electrode, the slimmest in the industry
Patented self-cleaning insulator/electrode design
Durable, reusable packaging protects spark plugs when not in use
100% pure platinum 0.8mm ground electrode
360-degree laser welding assembly process

Handles extreme compression and boost levels

Ultimate performance and durability

Maximizes track time, minimizes downtime

Delivers maximum spark energy

Withstands temperatures greater than 4000° F
Reliable Ignition Under the Highest Speeds
Elite spark plugs for the serious racer, the DENSO Iridium Racing best demonstrates its performance improvement during acceleration. Experience more power and torque, as well as increased engine efficiency and fewer misfires when ignitability is difficult.
High Speed Performance
0.4mm iridium-rhodium alloy center electrode requires less voltage to fire and increases firing performance. 100% pure platinum 0.8mm ground electrode reduces risk of melting the plug during harsh racing conditions.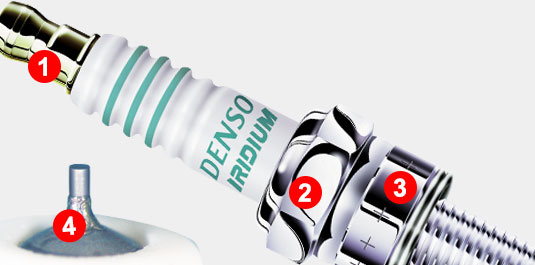 1. Specification Includes Terminal – More power with an ideal combustion cycle. Through superb ignition performance and spark voltage, non-firing and misfires under a variety of conditions has been greatly reduced. As a result, combustion conditions have improved dramatically, increasing engine output.
2. Built-in, Highly Reliable Resistor – All Iridium Racing plugs specify a resistor, and contain a highly reliable monolithic-type resistor that blocks noise that may affect electronic devices. (IW06 has no resistor.)
3. Highly Corrosion Resistant, Burnished Nickel Plating – With burnished nickel plating on the housing, a high level of corrosion resistance has been realized. Also, because the amount on the threads is low, the damage to the female thread in the cylinder is reduced.
4. 360-degree Laser Welding – The process used to join the iridium tip is a highly reliable 360-degree laser welding process* that enables the plug to withstand all kinds of driving conditions.
* This 360° laser welding method has been patented in the U.S.A. and Japan (Japan Patent No.: 2921524, U.S.A. Patent No.: 6078129)
5. Spark Cleaning Pocket – Between the center electrode and the insulator, a small pocket has been opened around the tip clearance. When there is carbon fouling or deposition, this part will discharge and burn off the carbon, restoring electrical resistance. This technology is patented by DENSO (Japan Patent No. 2727558).
6. Insulators for Racing – By using a new, strengthened insulator which was developed during numerous and repeated testing during racing trials, strength is improved by 20%.
7. 0.4mm Iridium Center Electrode – At 0.4mm in diameter, the DENSO Iridium center electrode tip is the world's smallest. It produces the hottest, most concentrated spark, while requiring the lowest voltage (5,000 less volts to fire than conventional spark plugs).
8. Silicone Oil Coating – During the start of the race, non-starting from carbon fouling and carbon deposits can be fatal. To stop this, the insulator has been coated with silicone. Using the water repellency of silicone, the insulator surface is isolated from moisture and carbon, preventing a decrease in resistance.
9. All-Platinum Ground Electrode – Compared to the nickel alloy used in conventional spark plugs, the high melting point of platinum will reduce such problems as ground electrode melting and wear. Also, the 0.8mm platinum alloy is welded on and gapped without any bending, reducing residual stress and increasing durability.
10. Housing End Face Chamfer – To improve the tolerance to severe combustion conditions, the housing end-face chamfer has been enlarged. This chamfer allows for slight inaccuracies in tuning. This design also facilitates better gas flow, which improves its self-cleaning performance to prevent carbon fouling.
Knowledge Base Information Available