Features:
Corrosion-resistant stainless steel construction
PTFE filter blocks efficiency-robbing contaminants
Refined zirconia element improves sensor response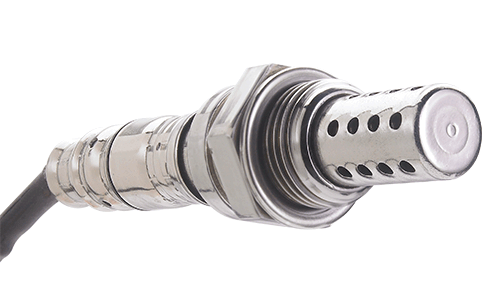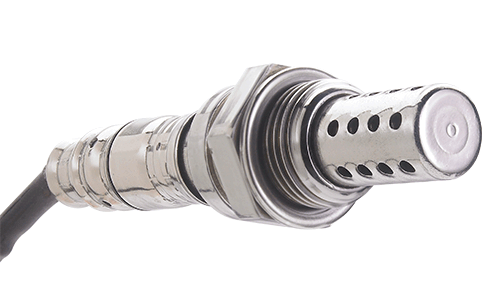 Superior design maximizes engine performance while reducing fuel consumption and harmful emissions

First Time Fit®
Delivers the right part the first time

Ensures smog test compliance
Superior Design Maximizes Engine Performance and Fuel Efficiency
DENSO's light duty oxygen sensor started to appear on vehicles with the development of fuel injection systems. The basic job of the sensor is to monitor the air fuel mixture under idle, moderate acceleration and cruise conditions. Under heavy acceleration the oxygen sensor goes into "open loop," which basically means that the engine management computer system ignores the oxygen sensor. Oxygen sensors have a smaller range of limits in detecting and adjusting the difference from an optimum air/fuel ratio.
As the automotive industry continues to improve on their standards DENSO is keeping the pace with advancements in our engineering to meet the demands from the industry. Also, as car owners are holding on to their vehicles for longer periods, DENSO continues to make auto parts available for those critical replacement parts for all applications.
Oxygen Sensors
Oxygen sensors, also known as Lambda sensors or O2 sensors among some vehicle manufacturers, are among the most sensitive and critical components on your car's engine. Earlier fuel injection systems employed one oxygen sensor in the exhaust system to maintain closed-loop air/fuel mixture control. However, today's engines may use as many as four sensors, which monitor not only exhaust gas oxygen content but catalytic converter efficiency as well. In order to perform these functions properly, the sensors must adhere to OE standards within incredibly close tolerances. A malfunctioning or incorrectly calibrated oxygen sensor can hurt driveability and illuminate the malfunction indicator, resulting in costly and time-consuming repairs. DENSO First Time Fit® oxygen sensors are designed to meet those tolerances and more. The DENSO oxygen sensor program offers one of the most complete product lines in the industry, from Acura to Volvo.
Oxygen and A/F Sensor Positioning
Left or Right?
Many manufacturers' catalogs identify the left and right side positioning; however, diagnostic tools refer to sensor locations by Bank and Sensor (e.g. Bank 1 Sensor 1).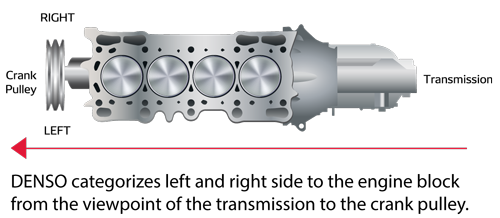 In the diagrams below, the longitudinal engine orientation illustrations depict rear-wheel drive. In cases of transverse engine (front wheel drive), the concepts are the same, however, the mounting direction is at a 90 degree rotation left or right from longitudinal.
Engine configurations will vary. Please review your service manual or online technical references for accurate engine configurations.
Three-Sensor Exhaust Systems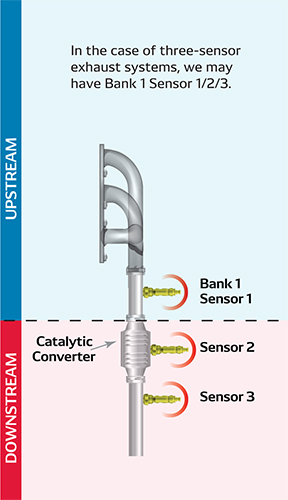 Inline Single / Split 4/5/6 Cylinder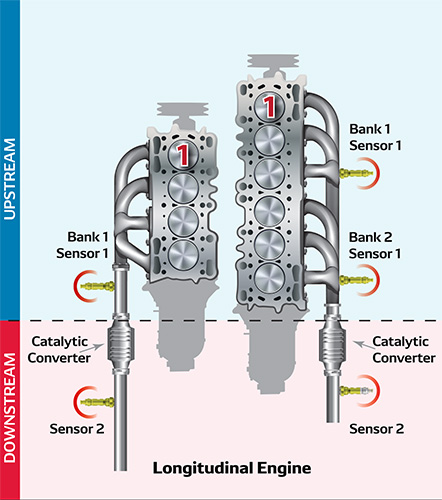 V6/8/10 Type Dual Exhaust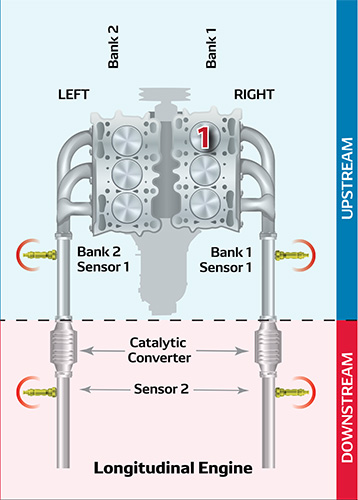 V6/8/10 Type Single Exhaust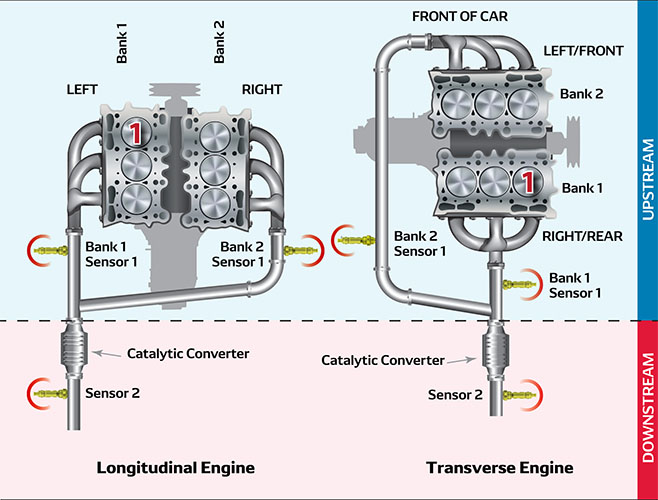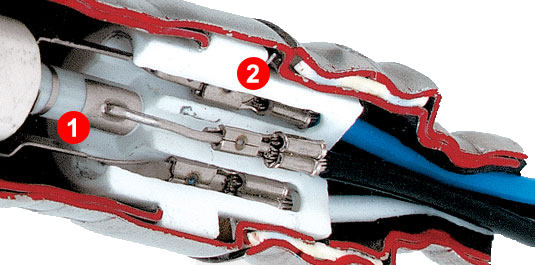 Robotic Laser Weld
Porous PTFE Filter – Allows atmospheric oxygen to enter the sensor without permitting water or engine contaminants to seep into the casing.
Double Protection Cover – Maintains proper unit temperature for quicker response times and protects the ceramic element against silicone and lead poisoning.
Stainless Steel Housing – Resists corrosion and contamination with a rugged, watertight body.
Aluminum-Oxide Trap Layer – Keeps silicone and lead outside the ceramic elient through DENSO's exclusive design, preventing damage to the platinum electrode.
Knowledge Base Information Available