The Smiths Bring Victory Home to DENSO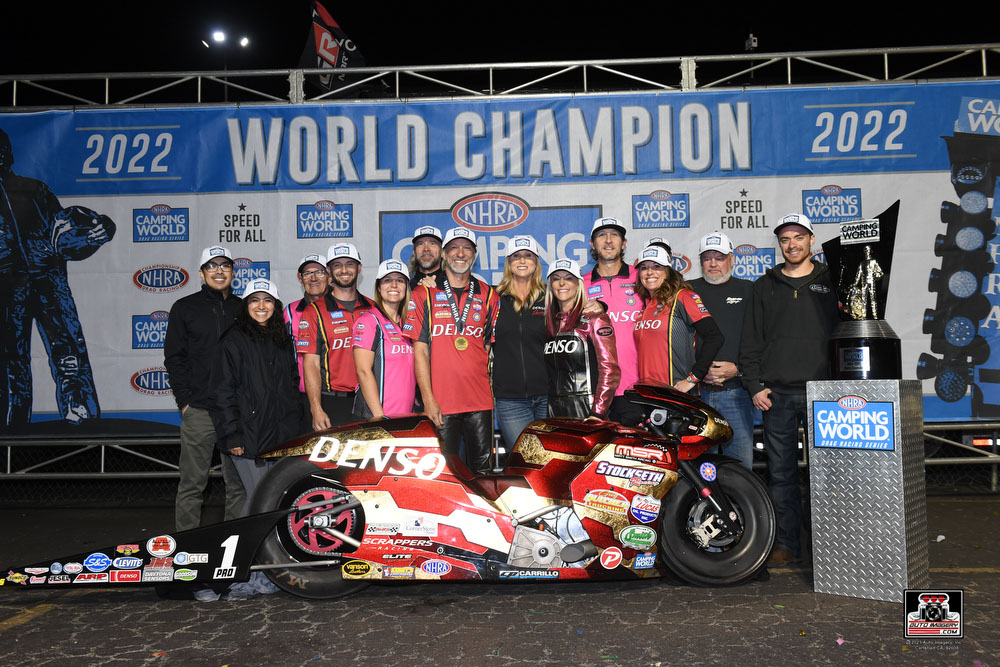 With his opening round win on Sunday at the NHRA Finals in Pomona, Matt Smith joined exclusive company as a six-time NHRA Pro Stock Motorcycle champion. Smith came into the Auto Club NHRA Finals with a solid, but not insurmountable 104-point lead and officially locked up the title when he rode his DENSO Buell past his competitor in round one.
Smith now joins the late Dave Schultz and Andrew Hines as the only riders in the Pro Stock Motorcycle class to win six titles. Smith has won three-straight titles and four of the last five – all with DENSO. His championship seasons have come in 2007, 2013, 2018, 2020, 2021, and 2022.
"This DENSO bike has been hungry all year," Smith said. "Angie and I had a shot to finish 1-2 in the points and we missed that, but we made a lot of progress this season. I knew Dave [Schultz] a little bit and I always looked up to him because he was the best out here and the same goes for Drew [Hines]. To be associated with them is amazing. It's cool to think I've got six championships and I might not be finished. I'm 50 now, but I'm not done yet. Next year, we're going to continue developing our Suzuki program and I expect us to be fast."
While Matt Smith garnered most of the headlines this season by winning his sixth NHRA Pro Stock championship it was hard not to notice the progress that has been made by his wife, Angie, who had one of the best seasons of her career aboard her DENSO Buell. Mrs. Smith wrapped up the season by winning her third NHRA Wally and did it in dramatic fashion with a hole shot victory, solidifying a third-place finish, the best of her career.
"This is just a relief. I wanted so bad to win a race this year," said Smith. "I had a good year, but this is just icing on the cake. I owe it to this entire DENSO team. They have my back through all the downs and the ups. This one is for my papa; I know he's watching from above."
Smith opened the season with a runner-up finish in Gainesville, the same event where she ran a then career-best 6.72. Smith entered the Countdown to the Championship as the No. 7 seed but improved her stock with another runner-up finish in Reading. She also earned a semifinal finish at the most recent event in Las Vegas.
This article was written with excerpts taken from NHRA.com.
Watch Angie's win and read the full story here: https://www.nhra.com/news/2022/prock-pedregon-anderson-smith-close-season-auto-club-finals-titles
Watch Matt's Championship run and read the full story here: https://www.nhra.com/news/2022/matt-smith-locks-record-tying-sixth-pro-stock-motorcycle-championship