Features:
1.1mm platinum center electrode
Titanium-enhanced alloy ground electrode
Minimum-quench electrode design



Enhanced flame propagation for increased engine efficiency

Free standing firing pad reduces quenching to generate a more powerful spark
Twin-Tip Design Proves Two Tips are Better Than One!
The Platinum TT® concept originated from DENSO's latest original equipment spark plug technology, the Super Ignition Plug (SIP). Until recently, this OE iridium Twin-Tip design could only be found in the most technologically advanced automobiles. But now DENSO is offering this cutting-edge technology in a brand new platinum/titanium design customized for today's value-minded automotive enthusiasts.
A Pioneer in Platinum
DENSO pioneered the use of platinum in spark plug manufacturing. To maximize the longevity and enhance the durability of the spark plug, DENSO applied platinum to both the center and ground electrodes. Platinum offers superior resistance to erosion and corrosion enabling DENSO to create a spark plug capable of consistent performance.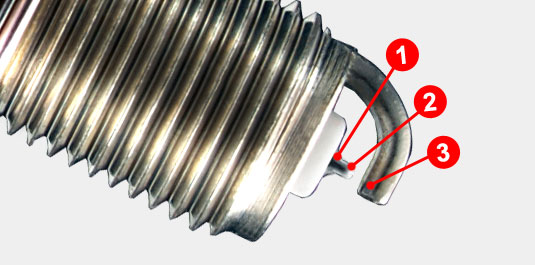 1. 360° Laser Weld
2. Platinum Center Electrode
3. Titanium-enhanced Tip
Knowledge Base Information Available