Features:
Titanium-enhanced alloy ground electrode
1.1mm platinum center electrode
Minimum-quench electrode design

Handles extreme compression and boost levels

Ultimate performance and durability

Delivers maximum spark energy
Twin-Tip Technology
The Iridium TT® Twin-Tip technology delivers far less obstruction to the spark allowing an omni-directional explosion. This minimizes the quenching effect and results in a more effective, more complete combustion. Better combustion means more power and better fuel economy, as fuel is burned more efficiently with each piston firing. The large center and ground electrodes seen on a standard plug increases "quenching" of the explosion, meaning the spark explosion is restricted by the electrodes above and below the gap, allowing it to spread to either side, but not grow with full range.

For complete combustion, the Iridium TT's two tips allow the spark plug to create the largest spark concentration and explosion, which translates into more power and superior fuel economy than any other plug.
With this unique design, there are literally two tips: a 0.4mm iridium center electrode and a 0.7mm platinum ground electrode. DENSO's patented Twin-Tip Technology was first used on original equipment spark plugs for luxury and performance cars. Now, that technology is available to everyone.
0.4mm Center Electrode
The 0.4mm center electrode has a low required voltage and high ignitability, that means your vehicle experiences less interference to spark growth (quenching), fewer misfires and significantly improved combustion, optimizing power output and fuel economy – getting you farther with less gas.
Developed with DENSO's own optimized iridium alloy; this is the smallest mass-produced center electrode available today.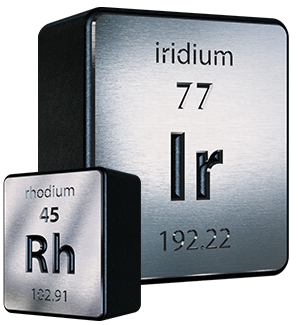 DENSO selected iridium and engineered it with rhodium to build the most durable alloy for spark plugs. The patented formula has the highest concentration of Iridium of any spark plug and outperforms in the most severe engine temperatures resisting oxidation and voltage wear for over 100,000 miles.
A member of the platinum family, iridium is the most corrosion-resistant metal known on earth.
360-degree Laser Welding
Precision welding by DENSO's state-of-the-art 360-degree laser welding technology allows the Iridium TT's twin tips to deliver omni-directional ignition, contrary to the flat "sandwich" ignition offered by other spark plugs in the market. The superior ignition of the Iridium TT means each spark burns the fuel more efficiently, giving your vehicle more power and better fuel economy.
To provide the best plug in the market, DENSO developed a proprietary 360-degree laser welding process: the result is the highest quality bond that ensures structural support for the Iridium center electrode, which resists wear and oxidation, even in the harshest combustion environments.
Knowledge Base Information Available