Quiet, Efficient Performance
The Heart of the A/C System
As one of the world's largest OE suppliers of A/C compressors, DENSO units are specified by most major vehicle manufacturers. DENSO First Time Fit® A/C compressors are manufactured and tested to the strictest OE standards for unparalleled performance. At DENSO, we bring together everything we know as an air conditioning systems manufacturer to bring you the highest quality line of factory-new and remanufactured compressors available.
When it comes to new compressors, you can't do better than going with a unit manufactured by the OE supplier. At DENSO, we know these units better than anyone because we originally designed them. Factory-new compressors make up 90% of our coverage.
In addition to our superior quality new units, some applications are covered by a DENSO remanufactured compressor. Each of these units go through a rigorous remanufacturing process to meet DENSO's strict standards for quality. If the part does not meet our stringent specifications, it is replaced with a factory-new component or the part is scrapped. Furthermore, all of our remanufactured compressors are coreless, so you don't have to worry about handling cores and the added costs associated with them. As always, these units are built right the first time, so they last longer and perform better.
Whether factory-new or remanufactured, our compressors are built to meet DENSO's unsurpassed reputation for technological superiority. You can relax knowing DENSO will give you the right part and the right fit, the first time.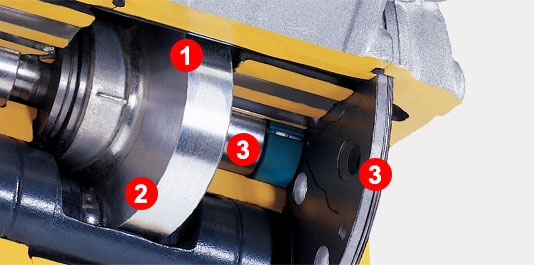 1. Thrust Bearings – Structured to withstand tension and stress for maximum durability.
2. Pistons – PTFE surface treated for smooth, efficient operation.
3. Valve, Shaft & Swash Plates – Designed with a lightweight aluminum alloy for added strength.
4. Oil – Comes complete with OE-specified oil.
5. O-Rings & Seals – OE-specified and compatible with both R12 and R134a refrigerants. Includes added factory-O-Ring installation kit to prevent leakage and ensure proper installation.
6. Snap Rings – Designed to improve performance under extreme heat.
Knowledge Base Information Available